Artist of the marginalised

Su-Darshan Gallery holds an exhibition of the work of C K Purandare. Get to know the artist.

Purandare comes from Pune. He did his B E Metallurgy from the College of Engineering, Pune and then, after 12 years, M A Sociology from the University of Pune. He has been writing on political and social issues since student days. Readers might remember his column in 'Manoos', his series of articles on the separatist movements in North-East India. He also wrote for the Diwali issue of 'Aandolan', a magazine devoted to alternative development and has been writing for 'Anubhav' of late.

| | |
| --- | --- |
| | |
| 'Rogozhin' by C K Purandare | 'Nastasya Filippovna' by C K Purandare |
Purandare has been living in Britain for the last decade. A politically aware citizen of the third world sees many facets of global inequity on arrival in the first world. Purandare depicts these in his work. The vast differential in the value systems of these worlds, power, wars, religion, the marginalised in both the worlds are the topics he handles. According to him 'art is mainly a means of communication, not for expression of beauty.' He has had no formal training in painting but his paintings have been widely appreciated at international level. At the moment, two exhibitions in Scotland are showing some of his work. Last year he displayed a few paintings in the Edinburgh International Festival. The Open University, UK; International Development Education Centre, Scotland use images of his paintings regularly for their magazines.
Forthcoming exhibition will show paintings on Indian topics like Nandigram, Kashmir; on international topics like Russia, Iraq- war, on the marginalised in the world like non-literates, street-children, prisoners, etc.

Puneities should not miss this opportunity.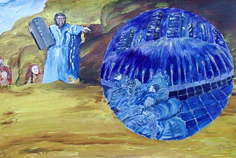 'exodus' by C K Purandare
['Lokmat' – manthan – July 15, 2007]